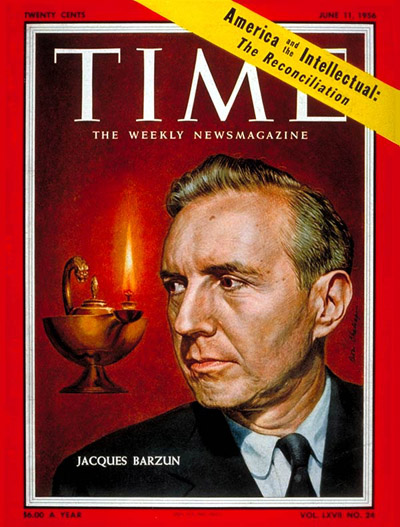 My sister, Karen introduced me to Jacques Barzun on a summer vacation in 2001. She had picked up his book, From Dawn to Decadence: 500 Years of Western  Cultural Life 1500 to the Present at Bethany Bookstore and thought I would like it. She shared his views on Martin Luther and the Reformation, something I have studied and have strong views. I started to read her copy and kept reading. I couldn't wait to go to the bookstore and get my own copy so I could write in it. I went and they had the hardback copy on sale and so the rest of that week I was reading this book and having discussions with my sister about it. The rest of the family on the vacation got tired of us discussing it. I was hooked on Jacques Barzun and wanted to get a hold of everything he wrote.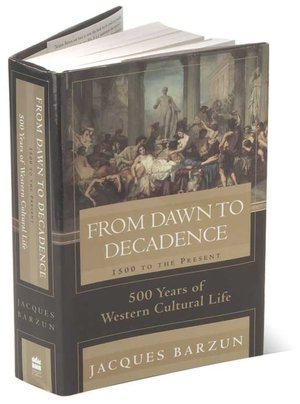 At the time I was teaching third grade and went back and shared the book with several teachers. I also found out more about Barzun. I love baseball and his famous quote about the sport caught my eye. Then I found out he wrote a catalog of mystery books, another interest of mine.
Thus began a love affair with the writings of a man who was born in France in 1907. It was in France that he rubbed shoulders with many modern artists such as Marcel Duchamp. His father thought an American education would be good to him so he came at a young age to America and later entered Columbia University where he was part of the debate club, and became the valedictorian of his graduating class in 1927. He later got his Ph.D from Columbia and taught history there from 1928 through 1955. He continued at Columbia as a dean and later provost.
He worked with the poet W. H. Auden and Lionel Trilling on a book club. He wrote over 40 books dealing with William James, writing, detective fiction and cultural history. He was as an art and theatre critic.
The book he is most known for, he wrote when he was 84 years old and it was over 800 pages long: From Dawn to Decadence. I now use that book in my class as a text and use so many of his other books to reinforce what I am teaching in history and writing.
Jacques Barzun died this week at the age of 104. While I don't agree with everything Barzun says, including Martin Luther and the Reformation, I appreciate his insights. He has made me understand the history of Western Civilization from a cultural point of view. He has helped me explain some historical periods to my students. He has given me some great writing examples. He also has made me appreciate even more two things I love: baseball and detective fiction.
Here are some of my favorite of his quotes.
Anybody who has ever taught knows that the act of teaching depends upon the teacher's instantaneous and intuitive vision of the pupil's mind as it gropes and fumbles to grasp a new idea.  Begin Here: The Forgotten Conditions of Teaching and Learning, pg 20
The measure of a man's education is that he takes pleasure in the exercise of his mind.
The truth is, when all is said and done, one does not teach a subject, one teaches a student how to learn it.  Begin Here: The Forgotten Conditions of Teaching and Learning, pg 35
Whoever wants to know the heart and mind of America had better learn baseball, the rules and realities of the game – and do it by watching first some high school or small-town teams.
In teaching you cannot see the fruit of a day's work. It is invisible and remains so, maybe for twenty years.
First Principle: Have a point and make it by means of the best word.  Simple & Direct
No subject of study is more important than reading…all other intellectual powers depend on it.
*  *  *  *  *  *  *  *  *  *  *  *  *  *  *  *  *  *  *  *  *  *  *  *  *  *  *  *  *  *  *  *  *  *  *  *  *  *  *  *  *  *

Here are snippets of reviews I have written for some of his books.
The Culture We Deserve: A Critique of Disenlightenment
Barzun has keen insight into our culture and shares it in 12 essays that deal with history, fine art, the humanities and so much more. If you loved From Dawn of Decadence, you will enjoy this book too.
Originally written in 1948, Barzun added a new forward and chapter in 1960. As a cultural historian, he understands the philosophy of an age. He helped me understand what is meant by romanticism and its influences on modern times. He also noted trends and his insights proved to be right on. If you are interested in history and how we got where we are today, this book will make you think.
The Use and Abuse of Art (A.W. Mellon Lectures in the Fine Arts)
Barzun has an acute sense of culture and history and is a straightforward writer. The six chapters in this book were originally given as part of the A. W, Mellon Lectures in the Fine Arts. Barzun has insights into the development of modern art. I teach an omnibus class (integration of English literature and history) that discusses art and I learned so much by reading this book that I have shared with my class. I wonder what further insights Barzun has about art since 30 years have passed since he wrote it in 1973. If you are interested in the start of art and wonder how we got to the point we are today, read this book for some thought-provoking ideas.
Barzun has written dozens of books and so because of that writing he has given insights into developing your style and keeping your writing clear. He gives many examples, some literary, and has exercises that I have used with my 10th and 11th grade classes.