I love books. As a former librarian and elementary classroom teacher I always looked forward to Children's Book Week and used it as another way to promote books. I now teach high school but still am excited about this week. I have used children's books in my class to teach writing skills not just to elementary students but to high school also.
One of the books I have used in both is Charlotte's Web. In third grade it was the first chapter book they read. I also have used it to teach word choice and characterization to high schoolers. They are familiar with E. B. White's The Elements of Style and most remember the story of Charlotte's Web. There is a section in the book where Templeton, the rat is described as having "no morals, no conscience, no scruples, no consideration, no decency, no milk of rodent kindness, no compunctions, no higher feeling, no friendliness, no anything." That is a excellent example of great word choice and developing characterization.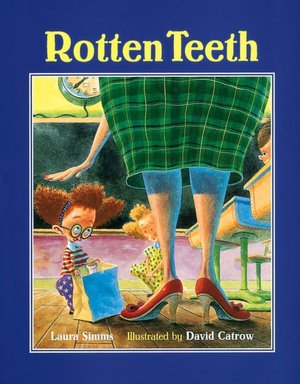 Another favorite is Rotten Teeth written by Lauren Simms and illustrated by David Catrow. It is delightful story about a girl bringing teeth for Show and Tell from her father's dental office. The class loved it but you can imagine the teacher felt differently. This book reinforces writing from your life experiences.
These two books will go to one of my readers. Fill in this easy Rafflecopter form to enter. And then visit the rest of the blogs that are participating!!